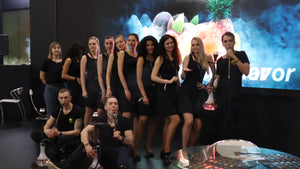 Al Fakhamah Tobacco Story
Al Fakhamah company was founded in 2011 in the United Arab Emirates and began its journey in the emirate of Ajman with an average plant and a production capacity of 1000 tons per year in simple flavors.
Al Fakhamah company focused on being launched from the United Arab Emirates due to its important role in the Middle East and its international position in international trade. Al Fakhamah company has also worked to implement international quality standards in production to employ productive capacity and choice of geographical locations to spread throughout the world, production was developed after increase in demand from hookah lovers which put Al Fakhamah company directly towards global presence with three facilities for now in the United Arab Emirates to meet the growing demand around the world.
Top flavors:
Amore, Freeze Passion Fruit Mango, Freeze Sky Melon, Gum Cinnamon, Gum Mint, Ice Grapefruit Mint, Ice Lemon Mint, Ice Mint, Mint, Mountain Breeze, Passion Fruit, Passion Fruit Mint, Slush Tangerine, Slush Watermelon Melon, The Rarest, Two Apple, Velvet Bear and Watermelon Mint. 
Al Fakhamah: Shisha Your Way
Shisha is loved around the world, and Al Fakhamah wants to share that passion with you. Enjoy high quality, great tasting shisha with Al Fakhamah's tobacco premium flavors.
Al Fakhamah new products and distinct range of flavors are easy to use and designed to mix seamlessly. Not to mention their new packaging also ensures your shisha experience stays fresh and lasts longer.
---